Swim for Shoes, the annual event to swim or paddle in the Atlantic Ocean has so far raised more that 1500 Euros for new shoes for children in care.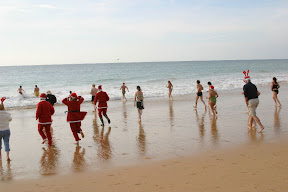 On Christmas Day, over 50 people paddled or swam , including numerous Father Christmas's and Reindeer taking a well earned break after their busy night, with nearly 100 watching.

1st January, 2007
The weather on New Years Day surpassed all expectations and brought more that 200 people to the beach of Armacao de Pera.Many were in fancy dress which added to the exhilarating atmosphere

As one swimmer said it was not only a good way to raise funds for charity, but also a fun way to start 2007. The water was warm and after a stirring chorus of Auld Lang Syne the hooter blew and the swimmers all ran down to the water.
Adding to the excitement, were the film crew from TVI - who filmed the whole event and interviewed a number of participants. This brought a lot of national attention to the event when it was shown on their News Programme.
The money will be going to buy shoes during the year for the teenagers at A Gaivota, Santa Casa in Albufeira. Each child at school needs a pair of trainers and plimsolls and the excellent amount raised means that all the teenagers will be fully kitted out.

Verna Kinder and Vicki Good would like to thank all those who took part and all those who watched. Thanks also go to Dean Lindermann for taking photographs on both days which were then sold to raise money for the fund, and Peter Phelan who filmed the whole event on Christmas Day and loaded it on the Internet to enable the participants to relive their experience. Also we would like to thank all those who helped us to publicise this event.

The film can be seen at
http://hotelgarbe.prophoto-international.com/
and some of the photos on and
http://picasaweb.google.co.uk/home
and
http://www.armacaodepera.com/
Take a look and mark the dates in your diary for next year.